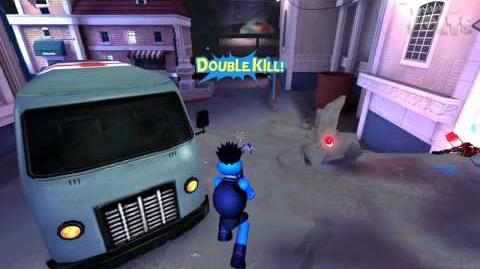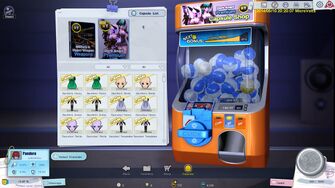 The Capsule Machine
Feeling lucky? Take a spin to win exclusive and rare items!
The Capsule Machine is a feature in MicroVolts where you can insert in game currency, rock tokens (paid for with real money) to try your luck at winning rare parts or weapons.  The Capsule Machine came to MicroVolts in the second update on September 29, 2011.  
Many of the things that were put into capsule earlier in the game have been rereleased in the capsule again, or in the coupon shop, making their rare value go down but not all the way, of course.  
Items from The Capsule Machine are naturally more unique, and powerful to have than items from the shop, considering you have to pay actual real money to attempt to win something from the machine.
While spinning your rock token in the capsule machine, you will probably win a few coupons
Basically every update since the Luck and Load update (capsule machine update), has featured new unique capsule items.
It costs 990 rock tokens (about 1 USD) for one spin in The Capsule Machine.    
After spinning the caspule you will also receive points that will be accumulated untill the lucky draw.
MP Capsule
A section in the capsule machine where the currency isn't rock tokens but 'Micropoints'. Micropoints are free and can be obtained through playing games, hammers, boxes, selling items, and many other ways.  
There are only eight categories in the micropoint capsule, unlike the rocktoken capsule. These categories include a Knox, Kai, Naomi, Pandora and CHIP set and a cluster of weapons (some of them have already been in the capsule).
It costs 2990 or 3990 micropoints for one spin in the Micropoint Capsule depending on what you're spinning for
Coin Capsule
The coin capsule is the newest capsule section. One coin provides you with 1 spin in the coin capsule, the coin capsule contains stuff that used to be (or still are) in the RT Capsule. 
Coins are obtainable through Tournaments/Events, Daily Rewards and more.
Lucky draw
The lucky draw points are earned by spinning the capsule. You receive more lucky draw points by spinning the capsule. 
Draw points are different depending on the capsule you are spinning on.
RT capsule: 12% draw points each spin
MP capsule: 0.5% draw points each spin
Coin Capsule: 0.5% draw points each spin
After the Bonus gauge reaches 100 % you were be awarded with a lucky spin, in which you  received a random reward of Micro Points.
Community content is available under
CC-BY-SA
unless otherwise noted.