Bio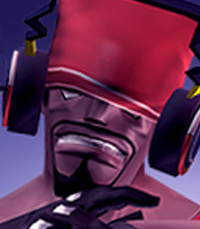 This World Star Rapper was manufactured by Adtoy to put some of his  groovy song upon MicroVolts World.
Listen to his songs while you fight on the battlefield.
Rapper, known as Sharkill Khan, is a character in MicroVolts Surge. According to the NQGames Schedule Calander, he entered the game on the third week of a new series of updates from NQ Games.
Character
Coming soon!
Quotes
Radio Message 1 ( Button C )
Help my groove.
Don't stop my groove, dude!
I am a World famous rapper.
Drop it like it's hot!
Cover my groove.
I got your groove, dude!
That's no groove of mine.
This groove hurts.
I'm out of groove.
Radio Message 2 ( Button X )
Thanks dude!
My bad.
Yeah.
No problem dude!
Done groovin'!
Where is the groove.
My groove hurts.
I need that groove.
Slippin'
Radio Message 3 ( Button Z )
Let's get groovin'...
Stop your groove!
Groove to left!
Groove to right!
Get grovin' ahead.
Some groove in the back.
Groove faster, baby!
That's no groove of mine.
You can't touch this.
Taunt
Everything is groovy, haha!
My groove will make you go crazy.
You can feel the groove all over the world...
Take it to the limit!
Misc
(Entered game)
(Entered game)
(Entered game)
(Captured battery)
(Teammate killed)
(Enemy grenade)
(Hit by sniper)
Can you feel the groove?
Don't stop the groove.
That's my groove, oh yeah!
(Acquiring Zombie weapons)
(Burning)
(Freezing)
(Gatling-warm up)
(Shooting enemy)
(No ammo)
(Enemy killed)
I believe i can fly!
Trivia
Sharkill have a similar appearance to Knox, being frequently called a "Knox rip-off".
Different from the other characters, Sharkill does say something when he takes the super jump.
"You can't touch this." is an obvious reference to "MC Hammer - U Can't Touch This".
Sharkill's base HP is 2200, and it is the only buff of this character. 
Community content is available under
CC-BY-SA
unless otherwise noted.