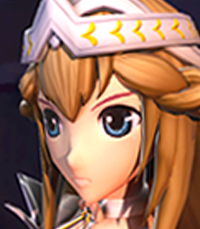 Sophitia always wear soft silk clothes and perfumed oil, whenever she takes a step, fabric winds on her body softly and gives out fragrance around.
Everyone who visits the temple gives a glimpse of Sophitia, but she ignores all the eyes and walk away.
She looks like she's from a different world becacuse of the lean body with golden accessories around her golden skin.
Character
Sophitia was a peaceful priestess that choose the way of war to fulfill her destiny.
Quotes
Radio Message 1 ( Button C )
Let's spread the word of grace.
Stop your prayer.
Pray to left!
Pray to right!
Pright ahead.
Pray to the back.
My grace shall hurt you.
That's no grace of mine.
Shall your soul rest in peace.
Radio Message 2 ( Button X )
Bless you!
My Apologies.
Blessed!
No dilemal.
Done blessing!
Where is the grace.
My grace is leaving.
I need that blessing.
Praying.
Radio Message 3 ( Button Z )
Help my grace.
You can't stop my grace.
My smite shall burn you.
Your soul is cleaned.
Bless me!
I have you in my prayers.
That's no grace of mine.
My blessing is leaving.
I am out of grace.
Taunt
Everything is doing
There shall be no place under the sky for you to live.
You can feel the grace all over the world
You infidels
Misc
The beggining of the end! (Entered game)
My grace shall hurt you! (Entered game)
... (Entered game)
... (Captured battery)
... (Teammate killed)
... (Teammate killed)
... (Enemy grenade)
... (Hit by sniper)
... (In Lobby)
... (In Lobby)
... (In Lobby)
... (Getting Zombie weapons)
... (Burning)
... (Freezing)
...( MG-Warm up)
... ( Shooting enemy )
... ( No ammo )
... ( Enemy killed )
Community content is available under
CC-BY-SA
unless otherwise noted.