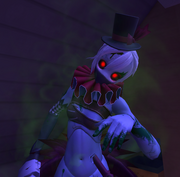 Zombie Girl will appear when you're playing Zombie Mode. The Zombie Girl is a zombie who in fact is Pandora herself.
But Naomi will automatically be transformed into the Zombie Girl which is also the Pandora skin.
Quotes
Taunt
Yeah! Bring it on!
Yeah! You want a piece of this!?
Misc
I'm not going to put up of this! (Infected as Zombie)
Ahaa! I found ya! (Searching for figures)
Uuuhhrgh, raaaawr! (Searching for figures)
Urgh! (Grenade hit)
OHH IT'S HOT, IT'S MELTING MY FACE!! (Burning)
Urgh, it's soo coold!!(Freezing)
Trivia
Zombie Girl is Pandora herself.
Been rumors that in the future NQ games will create more zombies, Kai, Naomi and Knox do not have their own zombie character yet.
Zombie Girl was censored due to her smile, it was too scary and provoking.
Community content is available under
CC-BY-SA
unless otherwise noted.